Relationships between families and schools begin long before a child enters school in September. How does a school put their best foot forward as they begin to build relationships with potential students, help families make transitions from one setting to another, or orient families to what they have to offer as a school community? Increasingly, schools are building a presence in their communities through word of mouth as well as through service opportunities that reflect their goals and values within the larger context of the world. Messages families hear in and out of school inform the decisions they make about where to register their child, ultimately at the school they feel best suits the strengths, needs, and interests of their child and family.
A Note to School

I have just relocated to your community. I have children who range in age from five to thirteen. I have yet to register my children for school and I am in process of gathering information that will ultimately facilitate that decision. Families in my neighbourhood have shared their experience and I have reviewed with interest your website – thank you for that.

A decision-making parent
Families make decisions about where and how their children will be educated in both formal and informal settings. They consider the language they want their children to learn and whether they want them to attend a publically funded school (with our without religious affiliation) or a private school. They work through logistics and curiosities related to transportation, special education, co-curricular activities, and community and global connections. While most families work within the school boundaries set by the Board, there are some who make other decisions. Some are willing to drive their children out of district, some will seek childcare in a particular area, some will even relocate to ensure that their children are going to get the best education possible.
Positive, inclusive, and responsive educational climates that celebrate students and build positive family-school relationships from the very beginning make all the difference in the world for student achievement and well-being.
How does your family-school community and educational climate set you apart from other schools?
How do families see and hear about this before they register their child?
How do you support families in their decision-making processes?
What do parents need to know and hear about your school, your district, or most importantly your unique characteristics?
I recently attended a Parent Information session at a local high school who used the image below to capture the essence of who they were as a school community and what they had to offer students and families. What a wonderful and creative way to begin the formal information session (long after the informal mixing and mingling!), especially given that the image captures the views of youth about the types of experiences and supports they have identified as critical to their success in Ontario's education system, and ultimately their futures. As I viewed this image and listened to the presentation, I realized that ultimately, this is what all students and families want to experience in their school communities.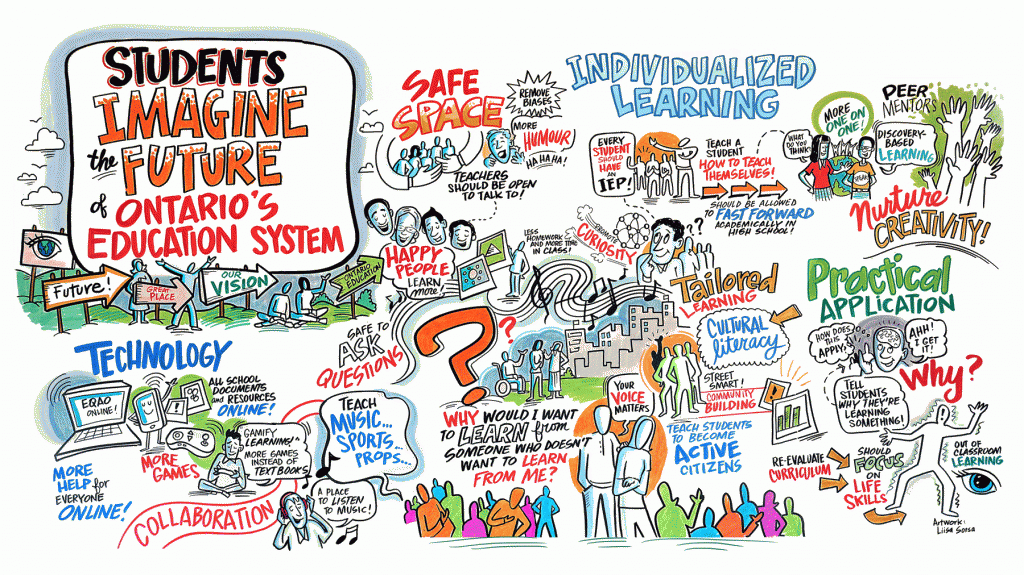 (2013 – see Student Voice; the 2014 image that cites the significance of parental and community involvement is here as well)
For most families, education is much bigger than academics… it includes well-being, community, belonging, lifelong success, and connectedness. It's about their children's future. It's about creating citizens who can see their individual selves within the context of a global world. It's about a holistic approach to education that values the uniqueness of each student and family, that welcomes all students and creates a climate for all to explore, grow, and struggle with success as they journey toward the unknown.
What strategies can schools implement to help families feel the difference, share the experience, and imagine the future in meaningful and authentic ways?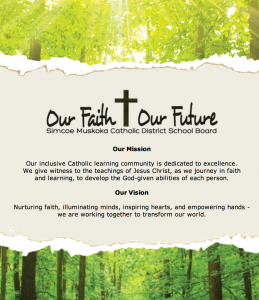 Open by describing your family-school community, and the belief in children and education as an investment in our future. Families want to hear that their children will be valued, respected, and encouraged to express their true selves. They need to know that transition is difficult, not just for students but for families as well. They want to know that you will support their children as they discover their gifts. They need to hear how this is reflected in the school or board's mission statement.
Welcome families and allow them to share your experience of school as family. Mingle, talk, serve coffee, cookies, even student-made hors d'oeuvres or snacks to showcase some of what you do in your school community and build trusting relationships from the very beginning.
Involve past and present students. Have them mix and mingle answering questions, demonstrating the successes of students, and simply sharing the student experience. Ask alumni to share the impact that your school has on students' futures (see the alumni reflections on St. Dominic's website).
Involve families. Never underestimate the power of a personal invitation or word of mouth. Invite families to share their experience as they are well positioned to respond to the unspoken needs and concerns of other families (see families' statements of experience on St. Dominic's website).
Involve the teaching community. Families want to meet the teaching community. They want to talk to them and encounter them as individuals before their child sits in their class. Smile lots, listen more, and answer as many questions as you can. This builds community and makes your school an inviting place to be.
Invite participation and/or attendance in as many ways possible and on multiple occasions. Send a postcard. Send an e-blast or use synervoice. Remind with remind. Post the meeting date on your communication board. Put up a poster in a public area. Give the date to students.
Make connections with students as often as possible. Be a constant in their lives, particularly in communities of practice or neighbourhood schools where elementary schools typically feed into secondary. Host retreats (for youth), bring your child to work days, or orientation sessions (e.g., Welcome to Kindergarten) that allow students and families to discover the school and ease the transition.
Keep the lines of communication open. Have an open door policy. Have a live voice at the end of the phone. Commit to 24 hour turn around on communication. Let students and families know that you are truly interested in their well-being. Create a space where they can share their concerns and successes in a way that strengthens relationships between student, family, and school.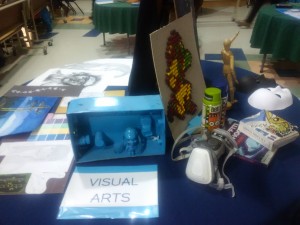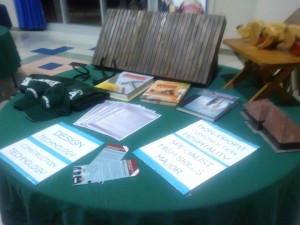 Model and demonstrate what families can expect from your school in and out of the classroom. Set up displays that demonstrate student work, curriculum, school initiatives. Don't just talk about them, show them all the great things that happen in your school – the specialist programs (e.g., Hospitality, Construction, Non-Profit) and learning opportunities that extend beyond the walls of the school (e.g., Missions, Community Involvement, Experiential Learning Opportunities).
Anticipate questions and/or concerns that families might have and answer them in word, practice, and a little humour when relevant. This leave families feeling understood and respected on the landscape of school. Show students and families where to find the information, provide a quick overview, and answer relevant questions. A little humour when clarifying goes a long way, "Community service in the summer of Grade 8 is far easier than it is in the spring of Grade 12!"
Recognize that not all families feel comfortable in all settings. Have as many students, parents, teachers, and administrators as possible with name tags – these are go-to people and families can choose their level of comfort. This facilitates question-asking and open discussion about the school that is personal and individualized.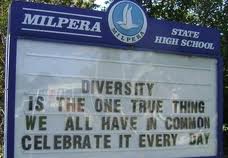 Ensure that all families and all students feel welcome. Outline multiple pathways, multiple programs, multiple options for school completion. Without telling, allow each family and each child to imagine themselves as part of your school community. Recognize that each child and each family's experience will be different and that the role of the school is to support them on their journey.
Create a safe space for all to learn, grow, and ask questions. Let families know about the many opportunities for personal development, the various community programs in place, and the individualized nature of your school experience.
Close not by selling or summarizing, but by sharing your own experience instead. Let families know how you have experienced the school, the students, the teachers, the families, and the school community. Talk about ways that students, families, and school faculty/staff are cared for, nurtured, and encouraged to become the very best that they can be. Speak from the heart, and allow families to feel the difference, share the experience, and imagine their future as part of your school community.
Know that your best advertising and your greatest message is to model and demonstrate value, respect, honesty, and genuine interest in students, their families, and their futures. Ultimately, all families want to know that their children will be cared for, welcomed, and celebrated on a daily basis.
Thanks this week to St. Dominic's Catholic Secondary School for sharing their inspired experience with me. I feel privileged and honoured to be part of a vibrant, inclusive, and dedicated community who models what it means to welcome ALL into their family.
What experiences can you share? What differences do you feel in your community? What future do you envision for students, families, and schools?